Positive Training for Positive Results
Canine To Five is a professional dog obedience training provider in San Diego. We specialize in beginner, housebreaking, and puppy training. Our canine instructors are certified professionals that specialize in correcting behavioral matters free from the usage of scare tactics, pain, or intimidation so animals may enjoy the learning experience and retain their practical knowledge. The Humane Society states that positive reinforcement training uses praise and/or treats to reward your dog for doing something you want him to do. Because the reward makes him more likely to repeat the behavior, positive reinforcement is one of your most powerful tools for shaping or changing your dog's behavior. Contact us to get started to with any questions.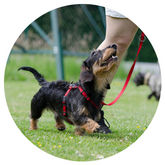 Beginner Training
Our obedience system is based on fun engagements that build focus. A great introductory class that teaches simple cues like sit, come and stay.

House Breaking & Potty Training
Our professional trainers can train dogs to eliminate in litter trays, potty pads, or outdoors.

Puppy Training
Help your puppy to develop critical social and obedience skills, plus you can get all your important puppy questions answered!
Come visit our local dog daycare, self-service dog wash, & pet supply store in San Diego, CA specializing in quality food, treats, and supplies for dogs.