Positive Training for Positive Results
Canine To Five is a professional dog obedience training provider in San Diego. We specialize in beginner, housebreaking, and puppy training. Our canine instructors are certified professionals that specialize in correcting behavioral matters free from the usage of scare tactics, pain, or intimidation so animals may enjoy the learning experience and retain their practical knowledge. The Humane Society states that positive reinforcement training uses praise and/or treats to reward your dog for doing something you want him to do. Because the reward makes him more likely to repeat the behavior, positive reinforcement is one of your most powerful tools for shaping or changing your dog's behavior. Contact us to get started to with any questions.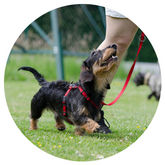 Beginner Training
Beginner training for dogs is important. Pet dogs aim to please, so with these beginner methods and also strategies, they will supply your pet's possibilities to make you satisfied. Our programs begin with the traditional sit, stay and come. However as your pet dog advances, we offer a lot more difficult demands that are supplied in our various other training courses! These are created to keep your pet dog involved and on their toes.


House Breaking & Potty Training
House training your young puppy has to do with consistency, patience, and favorable reinforcement. The objective is to infuse good routines and also build a caring bond with your pet dog.
Specialists recommend that you begin house training your puppy when they are in between 12 weeks and 16 weeks old. At that point, they have sufficient control of their bladder as well as bowel movements to learn to hold it. With Canine To Five's expertise, we offer you the devices and strategies to ideal residence train your new furever friend.

Puppy Training
Registering in pup courses before 3 months old can be an excellent means of boosting training, reinforcing the human-animal bond, as well as mingling young puppies in an atmosphere where threat of ailment can be lessened. Generally, young puppies can start puppy socializing courses as very early as 7-8 weeks of age. Pup socializing courses supply a safe and also well organized methods of mingling puppies as well as faster boost their responsiveness to requests. Early and adequate pup socialization and programs of positive pet training can go a long way to avoid habits problems and also enhancing bonding in between humans and also pets. While the first three months is one of the most important puppy socialization duration in a young puppy's life, proprietors of puppies that have passed this milestone are highly urged to remain to socialize their pups to as lots of people, animals, as well as areas as sensible.

Come visit our local dog daycare, self-service dog wash, & pet supply store in San Diego, CA specializing in quality food, treats, and supplies for dogs.